HOA Pest Control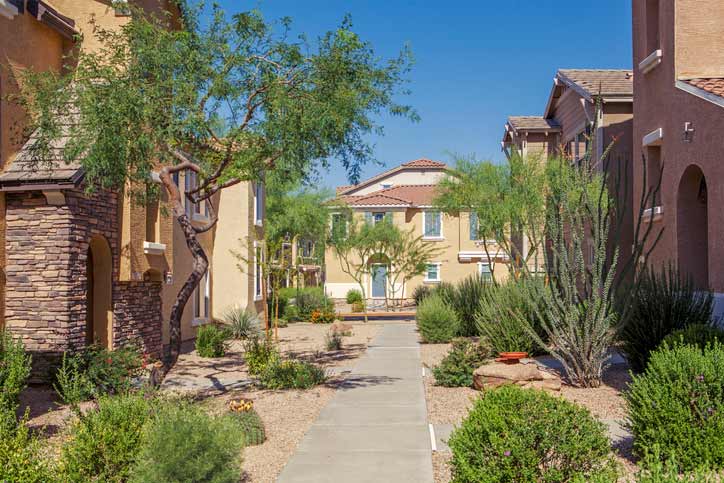 HOA Pest Elimination Services in Arizona
If your Homeowners Association (HOA) is experiencing widespread pest problems—or you're simply seeking pest prevention services for your HOA—Burns Pest Elimination has the expertise and tools to deliver thorough commercial pest control services for your entire community. Count on us to identify and eradicate any pests that are pestering your residents and the neighborhood they call home.
HOA Pest Control and Removal
Our Arizona pest control technicians are equipped to treat a wide range of pests that might intrude upon residences. Burns can provide various pest control and removal services for your HOA's neighborhood and landscaping.
We perform HOA pest control services to remove the following and more:
Exterior Pest Control Treatments
Burns Pest Elimination's monthly service on the exterior of community grounds covers all common areas—such as clubhouses, offices, and laundry and maintenance rooms—plus the entire base areas of structures.
Our exterior pest control process for HOAs buildings may also include the following steps:
Power-spraying the building's structural base with a long-lasting residual
Applying granular products to high-moisture areas
Addressing areas with dumpsters or trash receptacles
Baiting for target insects
Interior Pest Control Treatments
Taking an integrated pest management (IPM) approach, we will always aim to find the most holistic solution to your HOA's pest presences, with methods such as:
Concentrating on cracks, crevices, and other pest harborage areas
Dusting void and plumbing chases
Pressure injection with insect flushing agent
Satisfaction Guaranteed
We're proud to guarantee your satisfaction with our HOA pest control services in Arizona and Nevada: If pests come back after our treatments, so do we!
With Burns Pest Elimination, you can get peace of mind with additional perks, including:
Premium no rent loss guarantee program
24/7 emergency services available
Online billing and customer web portals
Get Pest Control for Your HOA or Condo Today
At Burns, we offer commercial pest control solutions tailored to the needs of your HOA. From Tucson to Las Vegas, our knowledgeable pest professionals and exceptional customer service work hand-in-hand to resolve your pest problem quickly and with care. Need HOA pest elimination ASAP? Contact us today, or get your free quote using the form below!