Termite Control and Pest Control in Phoenix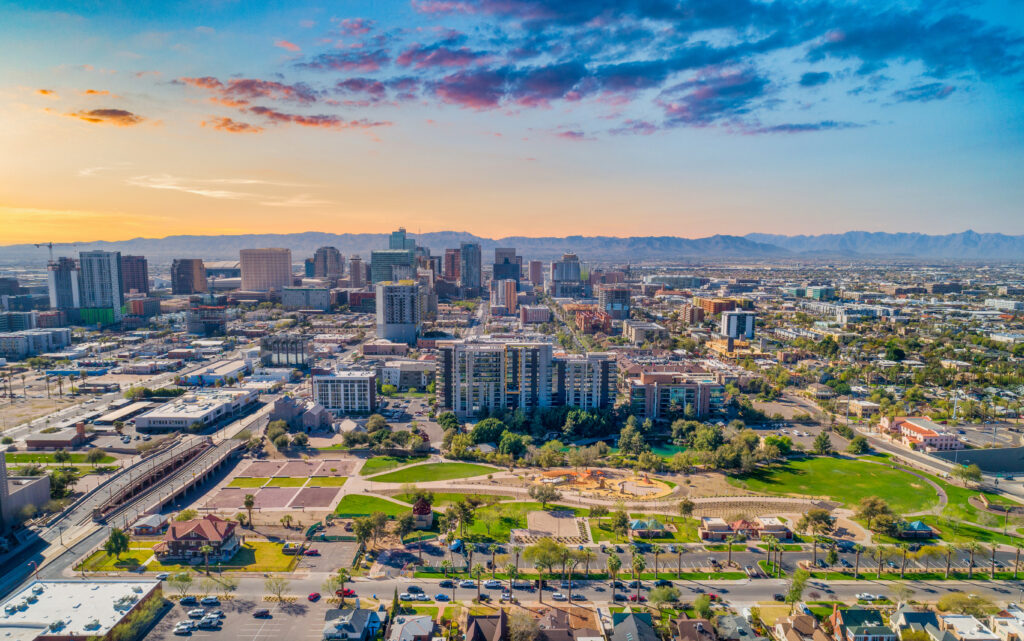 Phoenix, AZ, is the fifth-most populous city in the entire United States and one of Arizona's most important economic and cultural cornerstones. More than 1.5 million people call Phoenix their home, and the capital of Arizona anchors a metropolitan area of nearly 5 million residents. Phoenix residents enjoy a wide variety of modern shopping, dining, and entertainment options alongside the natural beauty of the Valley of the Sun.
Unfortunately, many homes and businesses in Phoenix are attractive for pests looking for a respite from the desert sun. Cockroaches, rats, scorpions, bed bugs, and crickets are just a few of these pesky pests. Thankfully, the experts at Burns Pest Elimination are here to keep you free from creepy crawlers. Utilizing ecologically friendly pest control services, Burns offers sustainable, affordable, and top pest control for residents of Phoenix and surrounding service areas.
Residential Termite Control and Pest Control
Nobody wants to see creepy crawly insects or stinky rodents in their home. Unfortunately, your home is extremely susceptible to insect and rodent invasions as a house is the perfect environment for insects to nest and seek protection. However, it's difficult to keep these critters out of your home without the help from an exterminator. That's why we offer a full residential pest control program. Whatever you're dealing with, our highly-trained experts can diagnose the root of your problem and enact an environmentally friendly solution.
Whether you need to get rid of critters like ants or scorpions from your house or just want some proactive pest control treatment done to keep your family safe, our exterminators are the best for the job. Your satisfaction, as well as your family's health, is always at the forefront of our pest control service programs.
Commercial Termite Control and Pest Control
Your business is your livelihood. Don't let potentially dangerous bugs interfere with your reputation or cause havoc among your customers. Whether you and your employees are in a large office building, or you own a small business that accepts customers through the door, we offer pest extermination for businesses that will address any current pest issues and prevent future infestations from happening.
From hotels and hospitality to restaurants and healthcare, we have experience keeping a wide variety of Phoenix pests away from businesses. No one wants to stay at a hotel that is infested with bed bugs or eat at an established restaurant that has roaches crawling around the kitchen floor. Not only will bug infestations potentially put you out of business, but they can also get you into serious trouble with the FDA and/or OSHA. Take action today by setting up time for our pest control company to come out and complete a thorough inspection and then get you set up on our commercial pest control program.
Weed Prevention and Elimination Services in Phoenix
We all know how difficult it is to keep a yard in Arizona beautiful and watered in the sweltering heat. But what makes it even more difficult is infiltrating greenery. There are multiple kinds of weeds that germinate in the southwest, such as barnyard grass and Johnsongrass, all of which can turn your lawn into a disaster without the help of weed elimination services. At Burns Pest Elimination, our pest control technicians not only know how to remove any unwanted pests from your home, but also how to kill the weeds in your yard.
Request Your Free Quote for Phoenix Pest Control
If you've got a pest problem, big or small, don't overthink it. Burns Pest Elimination is here to help. We've got the knowledge, training, technology, and experience to keep annoying, dangerous bugs and pests out of your home or business. To request a quote, fill out the form above or call 602-833-2683 today. A member of our customer care team will reach out to you shortly. If you're not happy with your pest control service, our satisfaction guarantee means we'll come back until you are happy.
CITIES WE EXTERMINATE PESTS FOR NEAR PHOENIX, ARIZONA
Paradise Valley, Glendale, Sun City, Scottsdale, Youngtown, El Mirage, Tolleson, Tempe, Avondale, Peoria, Cashion, Litchfield Park, Luke AFB, Sun City West, Surprise, Laveen, Cave Creek